An Eastern Cape Sangoma, Anele Hoyana, was brutally killed by his mlungu after what appears to be a cleansing ceremony on Saturday last week. In its turn, the Eastern Cape police officers shot dead the perpetrator while trying to detain him.
In a video that's been widely shared but was banned and deleted from the social media, Fritz Joubert, the farmer in Brakfontein can be seen insulting Anele Hoyana, who had been training Joubert to be a sangoma.
From the scenes, Fritz is seen raging and shouting at Anele who is kneeling and smiling at a child he is carrying – seemingly as a way to comfort the child.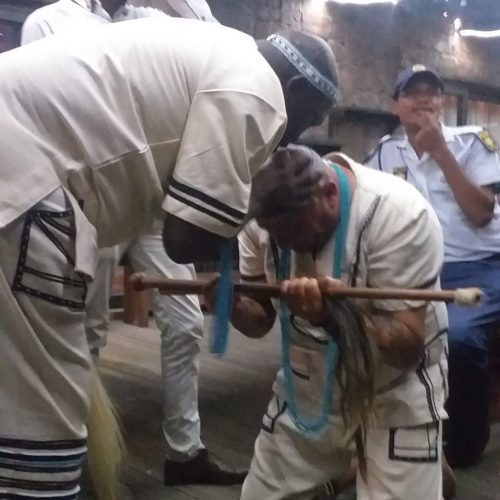 The police believe that circumstances leading to the incident are that a dispute arose between the trainee and his mentor who had been living together with the trainers' wife, a two year and weeks old kids, at the white man's farm.
According to police's Thembinkosi Kenana, the police had been alerted of the situation and, on their arrival, met with some resistance from Joubert who apparently lost his mind.
East London police spokesperson Captain Hazel Mqala said, "It is alleged that the farm owner, a 45-year-old male was with his sangoma friend and wife and two children who were residing temporarily on the farm, were socialising together in the early hours of Saturday when an argument came up."
She alleged the argument then escalated into a physical fight, which moved to the deck outside the house.
"The farm owner assaulted the 40-year-old male friend with his fists and a rifle butt, resulting in the victim sustaining severe head injuries. When the police arrived they found him lying on his back with numerous head injuries, already passed on."
The police are investigating a case of murder and kidnapping, and the Independent Police Investigative Directorate (IPID) is investigating the killing of Joubert in a separate docket.